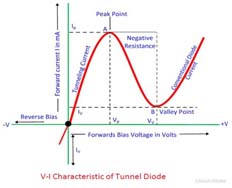 INTRODUCING
NEW PRODUCT FROM BHUSHAN & BHUSHAN
Tunnel Diodes have negative resistance characteristics and most students have had no exposure to such devices. Bhushan & Bhushan have introduced apparatus to view the I-V plots of such devices on CRO screen. Digital meters provided also enable taking of readings and plotting the I-V graphs on paper.
Four diffrent types of Tunnel diodes, including a Backward diode, are provided on the apparatus enabling instant comparison of Si,Ge and Ga As Tunnel diodes.
Tunnel Diodes work on the principle of quantum mechanical tunnelling and are used in pico second switching applications. For more information mail to romtekindia@gmail.com.